William Bolcom & Gabriela Lena Frank will discuss Bolcom's Symphony No. 9 online on Wednesday, January 13 - live streamed on Facebook and YouTube.
This event at 5 pm ET is free but registration highly encouraged. Registrants will receive links to listen to recordings of the featured music in advance of the event.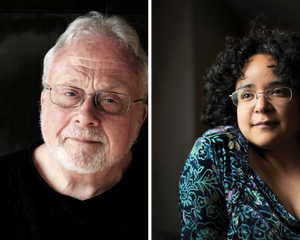 American Composers Orchestra's Composer to Composer Talks feature major American composers in conversation about their work and leading a creative life. The intergenerational discussions will begin by exploring a featured work, with the composers interviewing each other.  Tune in to gain insight into the genesis, sound, and influence on the American orchestral canon of the featured work, and have the opportunity to ask questions of the artists.  
Composer to Composer Talks are live-streamed on ACO's Facebook and YouTube channels. If you register, you will receive the featured recordings in advance as well as the direct links to join the event.    
On January 13 at 5pm ET, Gabriela Lena Frank talks with William Bolcom about his Symphony No. 9, from 2012, of which Bolcom writes, "Today our greatest enemy is our inability to listen to each other, which seems to worsen with time. All we hear now is shouting, and nobody is listening because the din is so great. Yet there is a 'still, small voice' that refuses to disappear…I pin my hope on that voice. I search for it daily in life and in music – and possibly the 'Ninth Symphony' is a search for that soft sound." 
Join us for this one-hour conversation, during which the composer will guide us through this masterwork -- complete with extensive listening examples.