Alan Neilson's review of Dinner at Eight commends Marc Campbell's libretto and Bolcom's "playful and accessible" score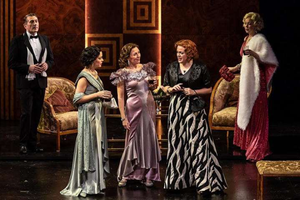 Campbell's libretto is very funny and Bolcom's score is playful and accessible, which can give the inattentive listener the false impression that they are watching a light operetta, a soufflé or a bit of froth served to delight the senses, rather than to tease the brain. 
...Certainly, it is entertaining and very amusing, but this is dark humor, very dark. Ultimately, there is nothing funny in these events: loss of dignity, suicide, betrayal, impending death and the loss of all that you own. It is the stuff of tragedy. 
...Bolcom and Campbell managed to create an interesting group of clearly defined dinner guests, who are attending the party for a variety of different reasons, and who have little genuine warmth for each other. Moreover, their lives are entangled in a variety of other darker ways. 
...Bolcom's music is an eclectic mix of styles, combining many elements, including Broadway and jazz waltz and tango, which is mainly tonal, sometimes atonal, or as David Agler, the festival director, was reported to have observed, "tonal music with a few dirty notes," with plenty of rhythmic variations to quickly change the direction of the mood. 
...Bolcom's music not only convinced in its own right, but it had a dramatic momentum which displayed a deep understanding of the theatre. It was never one-paced; the well-crafted libretto, allied to the varied musical styles, sparkling orchestration, quicksilver variations in rhythm and tempo, and the immediate accessible melodies of the score, ensured it was a very well-received production.