CMS of Lincoln Center has been celebrating various composers' 80 years of experience, craft, and skill. They recently sat down with William Bolcom to learn more about his illustrious career, his influences, and his landmark works.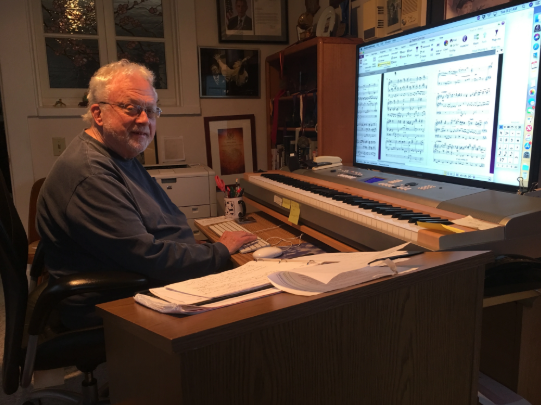 Would you divide your work into "periods"? Have there been certain "landmarks" that you would say marked new compositional styles? 
I suppose so. My earliest works were influenced by Bartók and Roy Harris quartets, especially the landmark of Alban Berg's Lyric Suite, whose music got me to write 12 string quartets from age 11 (the year I heard the Berg done by the Juilliard Quartet) to age 79. (I don't play any string instrument.) My next big influence in my teens was Beethoven and my early quartets show this. Written just before my 21st birthday, my 6th quartet is the landmark of my finding my own language, helped along by the encouragement and open attitude of Darius Milhaud, with whom I studied at Aspen in 1957 and later at the Paris Conservatoire. Ives (whom I'd also discovered at 10) became a larger influence, as well as my exposure to Boulez and Luciano Berio in Paris; these enter in my first Fantasy-Sonata for Piano in 1961, another landmark work. 
As with so many other composers, I was pulled into the total-chromatic style of the 1950s through the 80s. Eventually I found this restrictive and began about 1967 to rediscover tonality and explore ways of linking simple tonality with more complex music in the outer reaches of tonality, which I am still practicing, and incorporating American classic popular music in the mix, possibly starting with my discovery of ragtime. 
My growing interest in ragtime, mostly of Joplin (whose music I had a hand in discovering for the classical music world) pulled me out of any vestige of academic peer pressure. The landmark work of this stance is my full-evening setting of Blake's Songs of Innocence and of Experience,in which whatever musical style suggested to me in each particular poem dictated the resulting songs' setting-styles. This would be the fruit of 25 years' work, which had never been animated by the notion of seeing how many styles I could use, as some have accused I've done. I just went with where the poem took me, sometimes into areas I'd never guessed (country & western for "The Shepherd" for example, which I fought with at first until I realized it wouldn't go away). 
Going further with that, you have had several influences - you mention the importance of great American singer/song-writers (such as Irving Berlin) and pop music, you mention that you were influenced early on by French music, and obviously your duo with your wife, Joan, would have some impact on how and what you write. Could you discuss a bit more about how you have incorporated some of these things into your output? 
What working with Joan has enabled me to do is study prosody — word-setting — American style, particularly Berlin, whose solutions influenced the whole field of songwriting from both a composer's and a performer's points of view. My study has resulted in a style of prosody rooted in the classic American songmasters. I seek links between the various musics I know in search of a larger unity. 
My love and knowledge of French music came from my piano teacher from age 8 on, Mme. Berthe Poncy Jacobson at the University of Washington School of Music in Seattle who, as a friend of Poulenc's, was sent scores of his piano music; I would take them home. (At the time most conservatories and music schools were Austro-German-music oriented, and French music was thought inferior.) 
From age 11 until my graduation from high school at 17 I spent every Thursday in piano and composition lessons where I studied harmony, counterpoint, and orchestration at the University of Washington; my principal teacher in composition was John Verrall who had been at the London Royal Academy of Music and had worked with Kodály. (I never worked with the music programs in US public schools.) 
Do you have a "ritual" or a "process" each time you compose? 
Not that I'm aware of. 
Are there certain things you need in order to work? 
Time, mostly, and as much tranquility as possible (though in my theater-music days I'd often have to compose "on the fly"). I don't use a piano. 
Obviously a significant part of your career has been as an educator. In your 35 years at the University of Michigan, was there sort of a "universal message" that you wanted your students to come away with? 
First, get your skills (counterpoint, harmony) and study the music of the last millennium so that you can write fluently. Second, to find your style it is not a question of patenting one in order to "establish your brand" as some may try to do, as you'll risk boxing yourself in. If you follow your interests, your style will find you.
View Bolcom's Three Rags for String Quartet - Recorded live by the Escher String Quartet in Alice Tully Hall on May 21, 2017.