Oct. 20 premiere performance to be recorded by RTE for European broadcast November 3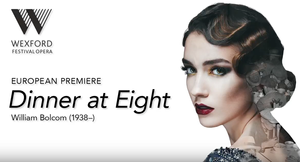 Broadwayworld.com reports that RTÉ will livestream at this year's Wexford Festival Opera for the first time, as part of its collaboration with European public service channel, ARTE.
The European premiere of William Bolcom's Dinner at Eight on October 20 will be recorded, then broadcast on Saturday 3rd November on RTÉ lyric fm and streamed around Europe,  courtesy of the EBU Premium Opera Season. 
Ann-Marie Power, Group Head of Arts & Culture, RTÉ, said: "I'm delighted that RTÉ's partnership with the Wexford Festival Opera is further enriched this year and that our close relationship with ARTE continues to bear fruit. Arts and culture is for everyone and this visual spectacle, along with RTÉ's Culture Night events and the RTÉ Radio 1 Folk Awards, is part of a series of exciting arts events which RTÉ is livestreaming and bringing to our audiences, wherever they are."
https://www.broadwayworld.com/bwwopera/article/RTE-Partners-With-ARTE-For-Exclusive-Livestream-Of-Wexford-Festival-Opera-20180919
In addition, Wexford Opera confirms that the composer and librettist of Dinner at Eight, William Bolcom and Mark Campbell will attend the European premiere of Dinner at Eight. They have therefore taken the opportunity to add another event to their programme, Meet the Creators: Conversation with the composer and librettist of Dinner at Eight. This event will take place the morning after the European Premiere on Sunday, 21 October at 10 a.m. in the Jerome Hynes Theatre in the National Opera House. Tickets are free, but must be booked in advance.
https://www.wexfordopera.com/programme/event/meet-the-creators-conversation-with-composer-and-librettist-of-dinner-at-eight/