E.B. Marks Newsletter notes premieres in Ann Arbor, Indianapolis, Colorado this month
View E.B. Marks September-October, 2018 Newsletter online
New Bolcom Works Celebrates Ann Arbor's Football History 
On September 15, the Ann Arbor Symphony Orchestra will premiere a new, commissioned work from hometown hero William Bolcom to celebrate the orchestra's 90th anniversary. Bolcom, whose 80th birthday year has already been full of premieres and fêtes, chose to honor that most local of cherished traditions in the home of the University of Michigan Wolverines, the fall football Saturday. Entitled Ann Arbor Saturday the vigorous concert opener weaves his own music amid a variety of "fight songs" and the sounds of multiple percussion players to make a joyful noise that will certainly delight. The work will be conducted by Arie Lipsky at Hill Auditorium in Ann Arbor.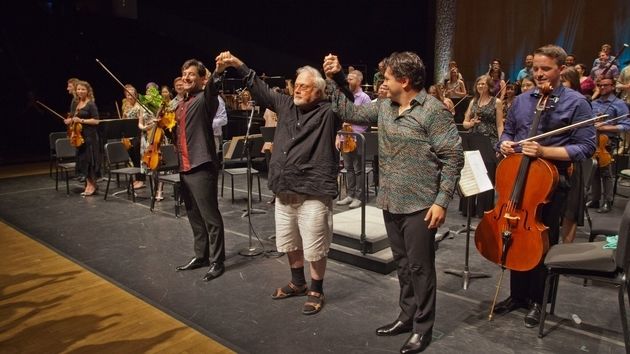 Bows for Bolcom's Violin Concerto at the Cabrillo Festival, Aug. 4. 
L to R: violinist Phillip Quint, Bolcom, conductor Cristian Măcelaru 
[credit: R.R. Jones] 
September sees no fewer than two ADDITIONAL World Premieres by Mr. Bolcom. He has composed a competition work for the International Violin Competition of Indianapolis which will be heard by several virtuosi at the Competition on Sept. 7-10. His Suite No. 3 for Solo Violin involves elements of improvisation, which were also the hallmark of his major Indianapolis Symphony work of 2013, Games & Challenges. Is there something in the water in the Hoosier State? 
Bolcom has also composed a Horn Trio, commissioned by Steven Gross (horn) and the experts on Bolcom's violin and piano music, American Double (Constantine Finehouse, pno. and Philip Ficsor, vln.). They will premiere the work at Metropolitan University of Denver on Sept. 20, with a performance in Ann Arbor at the Kerrytown Concert House, Sept. 23. Here is a promotional video for the premiere: