Choral works, American music in the spotlight at 2018 festival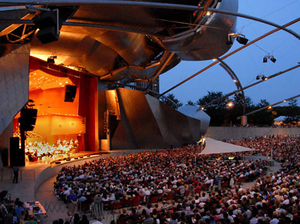 From chicagoclassicalreview.com:
If you like what the Grant Park Music Festival has been doing in past seasons, then you're going to like it just as much this summer. 
The 2018 installment of Chicago's lakefront music festival will serve up the same artful mix that has made it the most adventurous and smartly programmed music organization in town. This year's ten weeks of classical music will include a commissioned world premiere for chorus and orchestra, a healthy dollop of unsung American repertory and a bracing blend of offbeat works along with populist favorites…. 
After a 2017 Grant Park season that was lighter than usual on American music, homegrown rep is back with a vengeance this summer at the Pritzker Pavilion. William Bolcom's 80th birthday will be marked with performances of his Fourth and Fifth Symphonies.
Bolcom's music will be performed on:
July 6, 2018, 6:30 pm - Jay Pritzker Pavilion 
July 7, 7:30 pm - Jay Pritzker Pavilion
http://chicagoclassicalreview.com/2018/01/choral-works-and-american-music-in-the-spotlight-at-2018-grant-park-music-festival/