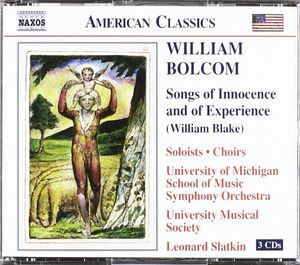 Purchase at ArkivMusic
Bolcom / Brewer / Davidson / Morris / Slatkin  
Release Date: 04/19/2005  
Label:  Naxos   Catalog #: 5110083-84  
Composer:  William Bolcom  
Conductor:  Leonard Slatkin  
Number of Discs: 2  
Recorded in: Stereo  
Length: 2 Hours 18 Mins.

An incredible achievement, SONGS OF INNOCENCE AND OF EXPERIENCE took composer William Bolcom 25 years to complete. Drawing on the talents of Leonard Slatkin and a group of musicians from the University of Michigan School of Music Symphony Orchestra, this DVD-Audio release offers a great chance to witness the piece in full.