From October 10-12 the 2020 Music+Festival: George Gershwin, Steve Reich, and William Bolcom will present the lives and music of these three composers within a rich and broad humanistic framework. All events will be online, free admission and open to the public.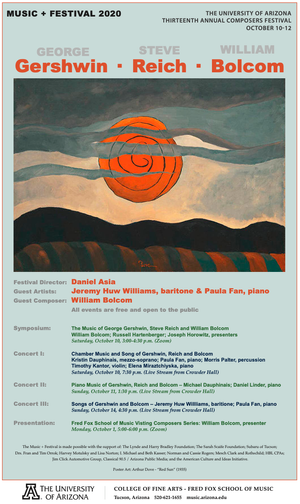 The festival consists of a film about Gershwin, a symposium providing the historical and artistic context in which the three composers lived and live, as well as what to listen for in this music; three concerts: one chamber music and song, one all-piano, and another all song; and finally and new for our festival format, a presentation by our visiting composer. The festival features faculty members and students of the Fred Fox School of Music, as well as guest artists, scholars, and performers. 
The three composers in this festival have one great commonality: they all, in their own way, bridge the worlds of classical music and vernacular, or popular, music. Barriers are broken down, and the vista of what classical music can be, is vastly widened.
Links will be available at music.arizona.edu (one week prior to the events).