Judith Sherman, producer of "William Bolcom: Piano Music" on the Naxos label, has been nominated once again for Producer Of The Year, Classical in the 2019 Grammy Awards.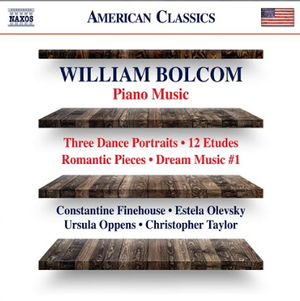 The award category (No. 74) takes note of Sherman's production credits on 9 releases, including new recordings of music by Beethoven, Meltzer, Mendelssohn, and Reich.
Among these is William Bolcom: Piano Music, a collection of mostly premiere recordings that draws inspiration from friends and colleagues in every phase of Bolcom's distinguished six-decade career. Elegantly performed by friends of the composer, this wide-ranging program is summed up by Bolcom as 'cleaning house' in the Charles Ives tradition. The performers are Constantine Finehouse, Estela Olevsky, Ursula Oppens, and Christopher Taylor. 
A twelve-time Grammy Award nominee and the winner of the award for Classical Producer of the Year for 1993, 2007 and 2011, Judith Sherman has made an indelible contribution to the catalogue of recorded classical music. She currently works as a freelance recording producer and engineer in New York.