"Our esteemed and celebrated composer, William Bolcom, turns 80 on May 26."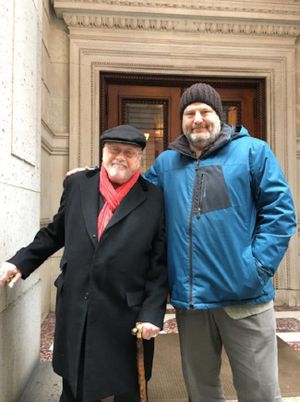 From the February-March 2018 E.B. Marks Newsletter
While activity involving Bolcom's music is always bountiful, this auspicious year has inspired numerous special events and performances. 
On January 11, already, the New York Festival of Song (NYFOS) gave a lengthy 80th birthday concert at the Juilliard School devoted to Bolcom and his friend, John Corigliano. A "William Bolcom Song Festival" concert took place in January in Paris and will be repeated in June. The Cabrillo Festival in Santa Cruz, California will present his Violin Concerto on August 4. In May proper, the San Francisco Conservatory will give the World Premiere of a new orchestration of his one-act opera, Lucrezia (libretto by Mark Campbell), itself a work of NYFOS parentage. The Gilmore Festival of Kalamazoo, Michigan will perform his First Symphony and other works. The University of Michigan Symphony Band is performing his complete output for band over the course of the season. The Wexford Festival Opera gives the third performance of his opera Dinner At Eight (also with Campbell) in October and November. (Wexford is a co-commissioner of the opera.) 
In March, Illinois State University's RED NOTE Music Festival hosts a Bolcom residency. In April, Western Washington University, in Bolcom's hometown of Bellingham, will stage Lucrezia in its original form, while in May WWU's orchestra will give the 2nd-ever performance of his Second Symphony ("Oracles"). This unique, one-movement symphony, which is the largest of his works from the period in which the friction between atonality and tonality was in highest dudgeon, was last performed by the Seattle Symphony in 1965 in its premiere. 
Bolcom has already enjoyed the World Premiere of a new concert song in February, The Walrus and the Carpenter, and one of two major performances at Carnegie Hall in April features the World Premiere of a new work for Viola and Piano entitled Dark Dreams That Will Not Disappear. The other is the New York premiere of the band version of his Trombone Concerto, featuring Joe Alessi with the University of Central Arkansas Band. More World Premieres: a new symphonic opener for the Ann Arbor Symphony Orchestra in September, and his Horn Trio in the same month.
Photo: William Bolcom, Evan Hause, General Manager for the Edward B. Marks Music Company
NYC, January, 2018 (Photo by Joan Morris)
 
View the entire E.B. Marks Newsletter online