Reviews for McTeague in Linz, first publications of Bolcom Early String Quartets 1 - 6, Circus Overture for Band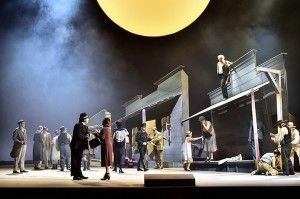 Great reviews for "McTeague" in Linz
"Greed for gold in musical theater." "Could not be better!" Der Standard
"entertaining in every respect" BR Klassik
"A discovery!" Wiener Zeitung
"Fabulous, versatile stage sets" OÖNachrichten
"Perfect music-making. Loud cheers!" Kurier,
"Linz convinced with a Western opera" Salzburger Nachrichten
"Musically, there were countless memorable moments" bachtrack

Bolcom's "McTeague" – European Premiere
William Bolcom's first opera, and perhaps his grandest, McTeague, received its first production since the 1990s and its European Premiere by the Landestheater Linz (Austria) under the direction of the opera's original conductor, Dennis Russell Davies conducting the Bruckner Orchester Linz.


Bolcom Early String Quartets – First Publication!
E. B. Marks Music Company is excited to announce the Premiere publication of William Bolcom's String Quartets Nos. 1 – 6. Rarely in modern music publishing are large scale works by an active, living composer fully edited, engraved, and published prior to their ever being performed. Marks has previously published, in manuscript and on rental, the composer's String Quartets Nos. 8 – 11.


Bolcom's "Circus Overture" for band available for purchase
With thanks to the Boston Symphony Orchestra, who commissioned William Bolcom's compact and splashy "Circus Overture" to celebrate Leonard Slatkin's 70th birthday last summer at Tanglewood, the overture has now been transcribed for band by the composer himself and is now published via MarksPrint.